Wells Maine Restaurants
Things to Do l Nearby Ogunquit and Kennebunkport Dining l Wells Beaches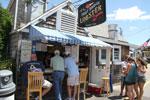 The Six Restaurants marked with a

are our dining package partners and those guests booked on a dining package can redeem there dining certificate(s) at there choice of these locations. Reservations suggested.

Angelina's Ristorante – 655 Main Street, Ogunquit, ME 207-646-0445

Fisherman's Catch – Harbor Road on the road to Wells Harbor, Wells. Lobsters, steamed clams, seafood, chicken. Take-out or eat-in. Family dining, children's menu. VI & MC. May-Oct. 207-646-8780 Trolley Stop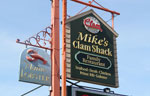 Mike's Clam Shack – Post Road. Lunch and dinner year round. A/C. Fresh seafood, BBQ ribs, lobster, steamed clams, desserts, beer & wine. Take-out menu available. Daily specials. Handicap accessible. 207-646-5999 Trolley Stop

East Restaurant – 636 Post Road, Wells, ME 207-641-8788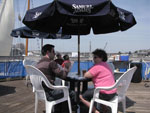 Clay Hill Farm – Modern Cuisine in a classic Maine farmhouse setting in the hills surrounded by 11 lush acres. Very romantic setting. 220 Clay Hill Rd, Cape Neddick, ME 207-361-2272

Jonathan's – Casual-fine dining, a contemporary lounge atmosphere, a 600-Gallon Fish Tank. 92 Bournes Lane, Ogunquit, ME 207-646-477
Other places to Dine in Wells…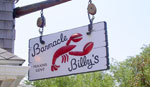 Barnacle Billy's – Perkins Cove, Ogunquit. Lobster Pound Restaurant – May thru mid-October. Luxury lobster served in an unsurpassed atmosphere. Dining on deck over water or in dining room. Two fireplaces. 207-646-5575
Billy's Chowder House – Mile Rd., Wells. Overlooking the Rachel Carson Wildlife Refuge and Wells Harbor. Featuring the freshest seafood available, lobsters, steaks and cocktails. Open mid-January thru mid-December. 207-646-7558 Trolley Stop.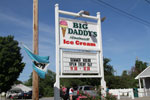 Bull and Claw – Rt 1 North, Wells. Great family spot. Low prices, healthy food. Salad & soup bars, rotisserie chicken, prime rib, lobsters, steaks, clams, Maine seafood grill. Beer, wine, liquor. Talk of the Town – "All you can eat" breakfast buffet. 207-646-8467
Bitter End – (Rt. 1).Serving lobsters and steamers daily. Fried seafood, "chowda", and delicious rolls. Lobster bake dinner in the ruff. Check out our full line of fresh seafood to take home. 207-646-6646 Trolley Stop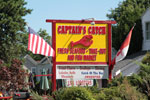 Congdon's Doughnuts – A seacoast tradition for over 40 years.Delicious doughnuts, pastries, rolls, muffins, breads, bagels-all baked fresh daily. Our full service restaurant features breakfast anytime with all of your favorites. New drive-thru service. 207-646-4219 Trolley Stop
Dunkin' Donuts – Rt. 1, South. Traditional favorites, breakfast specials, bakery items, soups and sandwiches. 207-646-7633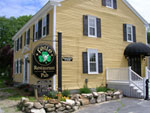 Feile Restaurant & Irish Pub – Great homemade food and a warm inviting atmosphere. The word Féile means hospitality and generosity. Both are principles that we hold very close, as we want everyone that steps through our doors to feel like an old friend. 1619 Post Road, Wells, 207.251.4065
Forbes Self-Service Seafood Restaurant & Takeout – Wells Beach. Breakfast, lunch and dinner. Take-out available. Featuring lobster and fresh seafood. Open 7 days a week during the summer. 207-646-7620 TrolleyStop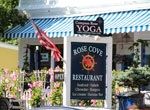 Horizons Family Restaurant – 35 Mile Rd. Wells. Serving breakfast and lunch. Home of the "Horizoner Omelette." Catering private parties evenings. Located with the Blue Horizon Motel off Rt. 1 on the road to Wells Beach. 207-646-4155
Hobbs Harborside – Enjoys amazing views of Wells Harbor as you dine on lobster, mussels, steak, chicken, and many other fun Maine dishes.  Rachel Carson National Wildlife Refuge, 352 Harbor Rd, Wells, ME  207-646-2200
Las Olas Taqueria – Mexican – 1517 Post Road , Wells, Maine 207-216-9711
Spinnakers – Rt. 1 at Bourne Ave., Moody. Native seafoods featuring fried clams, lobster, sandwiches, ice cream. Open for breakfast, lunch & dinner. Eat in or take-out. MC/Visa. Open all year. 207-646-6771 Trolley Stop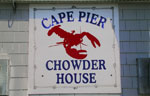 Joshua's Restaurant & Bar – 1637 Rt. One, Wells. Chef & Family owned and operated. Comfortable dining in a 230 year old house. Food created from scratch from freshest ingredients. Organic vegetables and herbs from our own farm in season. A/C. 207-646-3355
Litchfield's Bar and Grill – 2135 Post Rd. (Rt. 1),Wells. Fresh seafood, great steaks, and pasta. Cocktail lounge. Open year round. 207-646-5711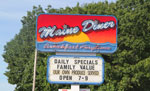 Maine Diner – Rt. 1 North in Wells. One of the area's most popular year round family style restaurants. Home cooking at its best. Breakfast anytime. Children's menu. Famous lobster pie, steak, seafood & chicken. Beer & wine. Open 7 am-9:30 pm. 207-646-4441
McDonalds – 992 Post Road, Wells, Maine 207-646-5875
MeKhong Thai – Dine-In or Take Out, Delivery. 162 Post Road, Wells, Maine 207-641-8700
Merriland Farm Café – 545 Coles Hill Road. Featured on the Food Network's "The Best Of" Offering unique breakfast and lunch items. Serving early spring through late fall. Indoor and outdoor seating available. 207-646-5040
New England House Seafood Sports Bar – Outdoor Bar & Patio Dining. At The New England House Seafood & Sports Bar, we take great pride in preparing our food with the freshest and best quality ingredients possible to make all of our homemade recipes.  124 Post Road, Wells, Maine 207-641-0601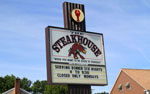 The Steakhouse – 1205 Post Rd. (Rt. 1) "When you want to be good to yourself." Only the finest steaks and seafoods. Appetizers, house specialties, seafood, and surf & turf combinations. 207-646-4200 Trolley Stop
Seacoast Pizza – 901 Post Road, Wells, Maine 207-646-1693
Pizza Market – located in the Hannaford Plaza 207-536-5844
HomeTown Pizza – in the Wells Corner Shopping Center right next to DQ 207-360-2461
Subway – Casual counter-serve chain for build-your-own sandwiches & salads. 952 Post Road, Wells, Maine 207-646-1336
Tulsi North – Indian Food – 231 Post Road, Wells, Maine 207-360-0443
The Bistro @ Chocolate – 913 Post Road (behind Olympia Sports), Wells, Maine 207-351-8090
Varano's – Adjacent to Misty Harbor. Italian food at its best. Lasagna, chicken parmesan, grilled veal chop, and pasta. Daily specials. Open for dinner every day mid-January thru mid-December. 207-641-8550
Things to Do l Nearby Ogunquit and Kennebunkport Dining l Wells Beaches